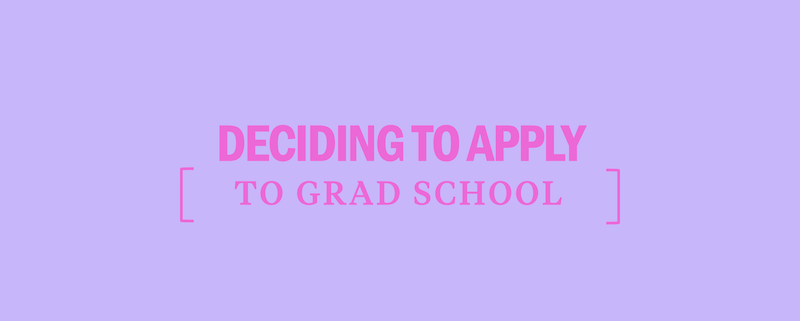 So, you think you want to go to grad school? Well, when starting my college career, I didn't. When I was a freshman, my instructors and peers said I would never need a master's or doctorate degree for what I wanted to do. At first I listened, because every major and experience in college is unique. I told myself a B.A. was all I wanted…until the word 'professor' started to come out of everyone's mouths. The first time someone told me I would make a good professor was the first time I seriously considered pursuing my education after undergrad. The second, third, by now even the twentieth time just serve as fuel for the fire. In college, everyone's experiences are different, but when it came down to it, I had to think about what I really wanted. Here, I've come up with the best pieces of advice from my own experience I can give to someone who's considering applying to graduate school.
Analyze Your Situation and Feelings
Ask yourself, "Does my passion require another degree? Do I need this to be successful?"  If you do, it's an easy decision. However, what if it isn't necessary, but you still want it? Maybe you just love learning in a student environment. In this case, try doing what I did. Sit down and look at what you might want to study. Look at the kind of courses you'd have to take. Do they excite you or scare you, or maybe even both? If you don't need a master's and you're not passionate about it, getting the degree may cause more problems than it solves. Listen to your own passions, and trust your mind and feelings.
A lot changed once I decided I wanted to go to grad school– one of those changes being my undergraduate major. During that semester, I was in two classes for my major, and the first course in my minor. I remember my major professors being confused, asking why I was bothering with graduate studies and what I thought I would gain. Then, the professors in my minor asked where I wanted to apply and how they could help. This was when my minor and my major switched places. My case might have been a bit extreme, but the basic point holds true: people in your major might not necessarily support your ambitions, so seek out those who will. Find a support group, and don't be afraid to ask for guidance. Often times, the supportive people in your life will be the ones to inform your ultimate decision.
If you've done these things, and still aren't sure if grad school is for you, remember: applying to grad school is easy. Maybe not as easy as your undergraduate application, but you aren't obligated to anything by applying. Once you write your personal statement, the rest is similar to any job application. Don't close the door before you consider all your options, and don't totally cut yourself off from the possibility of graduate school if you miss an application deadline. Many schools will even waive your application fee depending on your financial situation. So really, what have you got to lose? This was my mental process for about two months. It'll be easy, I told myself. Everything will be fine. That is, until someone asked me the question: when are you going to start studying for the GRE?