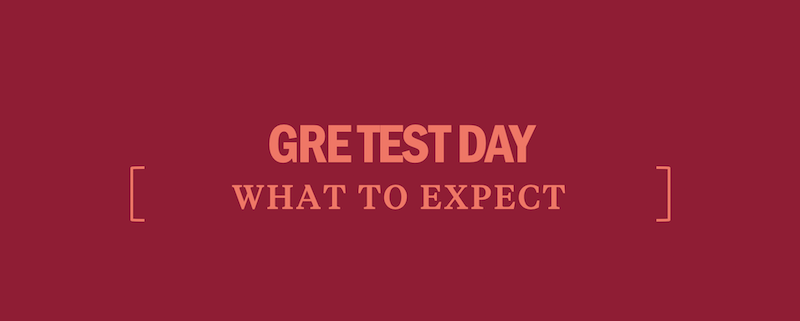 You've made it. It's GRE Test Day. You're ready with your snack for the break, admission ticket, photo ID, and directions to the test center. You're dressed in layers to make sure that you can adjust to any temperature, and you're getting ready to go. You know you're going to do a lot of math problems, read some passages, and write essays, but what's really going to happen on GRE Test Day? A lot more than just the test, and knowing what to expect can improve your mindset (and your score).
Here's what will happen on GRE Test Day from start to finish:
Aim to get to the test center early to make sure you can find the place and can account for traffic. This will also give you time to get used to a new setting.Simply acclimating yourself to the testing area can build your comfort level and your confidence.

Bring your admission ticket and your ID with you to check in at the front desk of the test center. The proctor will give you a locker where you can store your stuff. You can bring only the test-center-provided pencils and scratch paper into the testing room.

Ask four "set-your-mind-at-ease" questions:

Where is the bathroom?

What do I do if there's a tech glitch or the room gets really distracting? (Notify the proctor.)

How do I know to come back when the break is over? (Remember: they don't let you wear your watch.)

What do I do if I need more scratch paper or another pencil? (Notify the proctor.)

You'll write out a statement saying you are who you say you are. Be prepared to feel like you're going through airport security. The test makers really value security, but it can also throw you off your game if you're not prepared for it. If you go in expecting this, then it will be easier to stay focused.

Get your picture taken and sign in.

You'll be asked to sign in and out of the testing room, and the proctor will take your picture to verify that the same person leaves and comes back from breaks. Again, this is just par for the course of taking the GRE, not a comment on how trustworthy your face looks.

Get assigned to a computer.

This is your computer for the whole test. Get comfortable in your chair. You'll be taking the GRE alongside folks who are taking the GRE or other exams, but you'll each be in your own cubicle.

The tutorial is a program that walks you through how to use a computer. Even though the fact that you navigated to this blog probably means that you have all the computer skills you need to take the GRE, always do the tutorial. Use this time to get settled in and to acclimate yourself to your surroundings. You will also feel incredibly smart as the computer teaches you how to use the spacebar and how to copy/paste.

Choose where you'll send your scores

(if you're sending them the day of the exam.) Pick four schools to receive your scores.These are free to you now, but they're not free if you choose them after the test is over.You don't need to remember any codes, as the GRE will allow you to search for schools by name. Remember that you now have the option of using Score Select to send your scores later or to choose which set of scores to send if you've taken the GRE more than once, but it will cost you.
Complete the exit survey.

This survey will ask you what you're interested in studying in graduate school and how long you spent studying for the GRE. None of these answers will go to your target grad schools. The GRE test makers are just gathering information about students who take their test.

Click: I don't want to cancel my score.

You'll be asked, before you get to see your scores, if you'd like to cancel your scores. There are only three reasons that you'd ever want to cancel your score. I have my GRE students repeat these reasons over and over again throughout the course, as chances are you will feel that the GRE was hard because the difficulty level of the GRE adapts to your performance. Never cancel your score simply because the test felt challenging. Only cancel your score if…

…you become extremely ill during the test.

…there is a natural disaster during the test.

…for whatever reason, you do not finish many questions in a section. If you don't finish half a section, for example, your best bet is to test again, as there is a large penalty for not finishing the majority of the questions.

You've done it! Pat yourself on the back and do something nice for yourself. You deserve it!