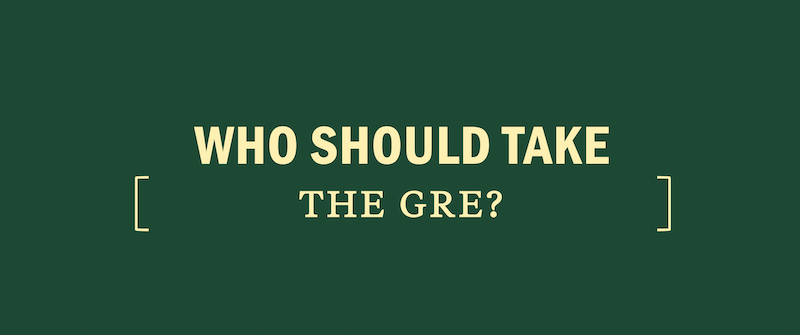 If you're considering going to graduate school, you've likely begun thinking about applications and admissions requirements. This invariably includes the GRE, or Graduate Record Examinations, an admissions test made up of Analytical Writing, Verbal Reasoning, and Quantitative Reasoning sections.
Why do people take the GRE?
The GRE is used by many graduate schools to determine whether a student is a qualified candidate for their program. If a student is planning on graduate school, business school, or even in some cases law school, the GRE is often an essential part of their application.
Who should take the GRE?
Prospective graduate, MBA, and even law students take the GRE as part of the application process to their graduate schools of choice. Data in the following tables is taken from ETS' GRE Worldwide Test Taker Report, and refers to GRE test-takers from 2017-2018.
Who takes the GRE: Intended Graduate Majors
The majority of GRE test-takers are planning on entering graduate programs in life sciences, physical sciences, engineering, and social/behavioral sciences.
| | |
| --- | --- |
| Intended Graduate Major | Percent of GRE Test-Takers |
| Business | 7% |
| Education | 5% |
| Engineering | 13% |
| Humanities and Arts | 4% |
| Life Sciences | 23% |
| Physical Sciences | 14% |
| Social and Behavioral Sciences | 12% |
| Other | 5% |
| Undecided | 6% |
| No Major Provided | 12% |
Who takes the GRE: Intended Graduate Degrees
Although the vast majority of GRE test-takers are Master's- or PhD-program-bound, more and more MBA and law programs have begun to accept the GRE in addition to the traditional GMAT or LSAT, respectively.
| | |
| --- | --- |
| Intended Graduate Degree | Percent of GRE Test-Takers |
| Master's (M.A., M.S., M.Ed.) | 42% |
| MBA | 3% |
| Doctorate (Ph.D., Ed.D.) | 28% |
| Postdoctoral Study | 1% |
| Other/No Response | 26% |
Average Education Level of People who take the GRE
There are no degree requirements to take the GRE, but most GRE test-takers are either in the process of completing or have completed a bachelor's degree. Those with higher levels of education when taking the GRE likely didn't initially enroll in graduate programs that require the GRE or wanted to take the GRE again before further graduate study (either because they wanted to improve their score or because their scores had expired).
| | |
| --- | --- |
| Current Educational Level | Percent of GRE Test-Takers |
| College Sophomore | 1% |
| College Junior | 5% |
| College Senior | 33% |
| College Graduate (not currently a student) | 33% |
| First-year Graduate Student | 3% |
| Second-year Graduate Student | 3% |
| Master's Degree Recipient (not currently a student) | 14% |
| Other | 8% |
| No Response | <1% |
Average Ages of People who take the GRE
Many people choose to take the GRE during or immediately after their undergrad, during a gap year, so they can start on their graduate studies right away. This puts the majority of GRE test-takers in the under-25 age range. Those who take time off from school to work or pursue other endeavors before returning to graduate studies are more likely to be slightly older.
| | |
| --- | --- |
| Age | Percent of GRE Test-Takers |
| Under 23 | 45% |
| 23-25 | 27% |
| 26-30 | 17% |
| 31-40 | 9% |
| Over 40 | 3% |
Where are people who take the GRE from?
Since the GRE is generally only a requirement for graduate schools in the United States and Canada (with a few other international exceptions), most GRE test-takers are from the United States. However, U.S. graduate programs are a draw for many people living in other parts of the world as well, meaning that fairly large percentages of GRE test-takers live internationally.
| | |
| --- | --- |
| World Region/Country | Percent of GRE Test-Takers |
| United States | 66% |
| India | 11% |
| China | 9% |
| Europe | 3% |
| Other Regions/Countries | 11% |
Should I take the GRE?
As a rule of thumb, it's a good idea to take the GRE when you're applying to graduate school. Although some programs are altering their application requirements to make the GRE optional, taking the GRE will give you ultimate flexibility in your graduate school applications. Scoring well on the GRE can help your application even if the program has a GRE-optional policy, and taking it will ensure that you've completed the requirements for every program you apply to; you won't be limited in your graduate school options because you can only apply to GRE-optional programs.
Start your GRE prep by taking a diagnostic test and choosing a GRE test date based on how long you feel you need to prep and when your applications are due. Kaplan has lots of resources to help you get started:
Your Target Grad School's Testing Requirements
Some graduate programs have strict GRE score requirements, while others view your application more holistically and consider the GRE as one of many parts of your overall application. Still others don't require the GRE at all, and instead allow you to submit GRE scores only if you want. Knowing the average GRE scores of those admitted into your top-choice programs can help you set a score goal and choose to apply to programs that will be a good fit for you.
Your Grad School Application Timeline
Plan on taking the GRE about a year before you submit your graduate school applications. This will ensure that you'll be able to submit your scores by the deadline and give you time to retest if necessary.
It can be daunting to try to organize your application checklist items. Check out Kaplan's grad school application guide for insight on grad school admission requirements, when to take the GRE, financial aid, and more.
https://www.kaptest.com/study/wp-content/uploads/2021/06/who-takes-the-gre-should-i-you-why-take-need-to-optional-required-require-requirements.png
335
800
admin
http://wpapp.kaptest.com/wp-content/uploads/2020/09/kaplan_logo_purple_726-4.png
admin
2021-06-25 16:49:34
2021-06-25 17:51:00
Who takes the GRE?